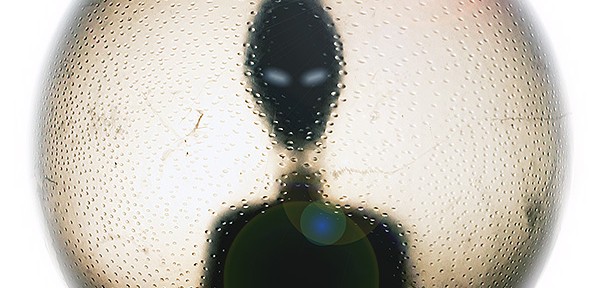 ---
Well, not really, but if aliens got your attention then that's a good start.
We've all been there, standing in line at the grocery checkout and as we glance to our right or left we can't help being drawn into the tabloid headlines; even if all it invokes is a "You've got to be kidding me!" moment, that headline, sub-headline and image have done their job.
Later that same day or week your checkout line experience may be shared with someone else or spark a new conversation if for nothing else to illustrate the crazy nature of the world at large.
In the massive, global checkout line that is the internet, what is it about your website's home page that grabs peoples attention long enough to make them stop and take a look? What are you giving them to think about later in the day?  What makes them want to talk about your website and share the experience with others?
Of course I'm not advocating internet sensationalism but at the same time so many websites, those that market products and services in particular, tend to all look and sound the same when it comes to messaging; best quality, best service, years of experience, satisfaction guaranteed, your "fill in the blank" specialist, etc.
Think of your website's home page as that eye-level, tabloid magazine rack, brazenly displaying those headlines for all to see.  What about your "front page headline" is going to grab their attention, give them a double take, and make them want to pick it up, flip over to page two and keep reading?
If the answer is "nothing", then perhaps it's time to start thinking about trying something different.